Enter your details to reserve this offer with no obligation!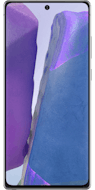 Samsung Galaxy Note20 4G 256GB
Network: Unlocked
Condition: Working
Your chosen recycler:

Key points
Please note that Gadgetreclaim:

Only offers a print your own label option and don't send out packs in the post. A link to create a free post label will be in your confirmation email. If you don't have a printer or access to one that's fine, and your local Royal Mail customer service point can print your label and send your parcel for you free.
Cannot accept devices that are missing any parts such as stylus or SIM tray (chargers and accessories are not required but can be sent if you wish)
Cannot accept devices that do not have a fully functioning Touch ID or fingerprint scanner
Cannot accept devices that fail the restore process
Cannot accept devices that are unable to connect to a UK mobile network
Cannot accept devices that are bent, crushed, or beyond economical repair
Cannot accept devices that are unable to power on and off or show signs or liquid damage or screen burn.
Cannot accept devices that are locked to an Apple iCloud, Samsung, or Google account

Reserve your Offer for 14 days

When you complete this form, your offer will be locked-in for 14 days.

No Obligation Offer

Only send your gadget if you want to.

Best Offers since 2009

We help 1000's get the best value every week.

100% Secure Transfers

All information will be sent via a secure SSL connection.
Please be aware SellMyMobile is not a recycler
We help you find a recycler using our site but any agreements regarding the sale of your device will be directly between you and the recycler and not us.  We'll share the information you provide opposite with the recycler and they will contact you directly regarding the sale.
Take a look at our Terms and Conditions for further information.